Purpose of the interactive case session
The interactive case is designed to reflect the challenges our clients face and is an opportunity for you to share your thinking about a problem at hand. All candidates applying for management consulting roles at Oleto Associates are adviced to prepare in advance for interactive case sessions. 
We holistically evaluate candidates along several dimensions required to become a great all-round consultant. The interactive case session is focused at two of these dimensions: Problem-solving and interpersonal skills.
Below we outline the key elements in each.

What we look for when you are solving the interactive case at Oleto Associates
The typical process for the interactive case session
While the case interview can be challenging, it is important to have fun and enjoy yourself during the process. How you structure and openly share your thoughts and handle ambiguity is more important than the "correct" answer. 
Each case in the interview process is varied and unique, and there is no "one-size-fits-all" solution. You should be ready to use your imagination, collect and synthesis data, arrive at a logical solution, and communicate your findings confidently. 
Below we break down the typical case interview process and approximate time for each step. You will also find some practical advice for each step.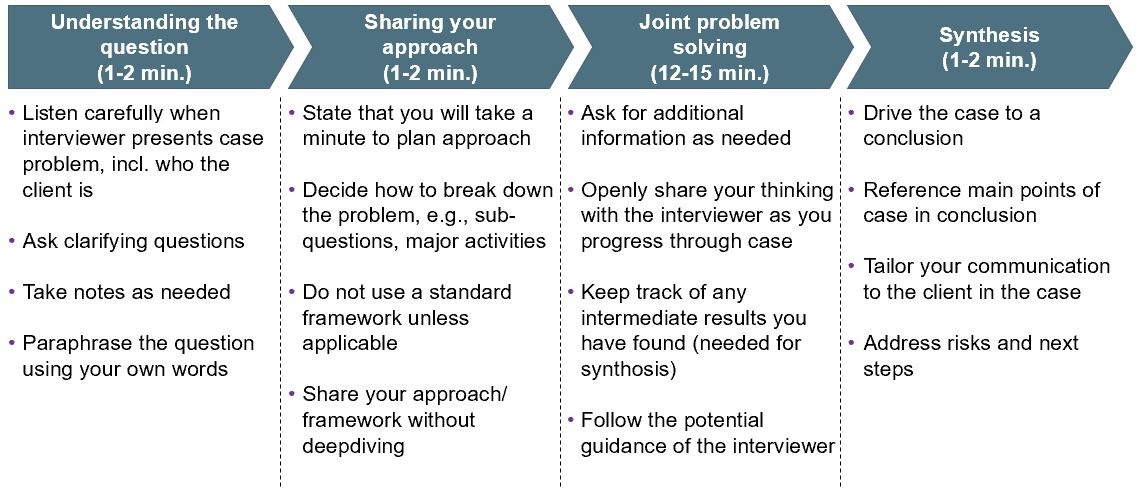 The typical process for the interactive case session at Oleto Associates