Measuring digital success can help executives track value creation and prioritize where to focus next. Paradoxically, some companies find that high digital performance can steal their digital health over time.
The Challenges in Measuring Digital Success
Most companies are pursuing a digital agenda today, expecting, e.g., to boost revenue, lower costs, improve customer loyalty and strengthen market positions. Executives have a strong interest in following the progress of the digital agenda, in order to launch highly focused investments and perform corrective actions.
Tracking digital success poses several challenges:
How do we measure how we are performing digitally now and over time?
How do we measure that we are proactively doing what is needed to stay "digitally healthy" in the future?
How do we maximise business value creation by focusing on the right digital initiatives?
The Difference Between Digital Performance & Digital Health
Performance and health are two different things. An athlete can have a high performance one day, while ignoring his/her long term health, maybe even pushing his/her abilities at the expense of serious injuries. Likewise being healthy does not guarantee a high athletic performance.
These concepts are also valid for organisations that create value by becoming more digital.  
Digital Performance is the company's current ability to use digital to deliver tangible results. Performance indicators track the outcome of using digital solutions in all aspects of the business. 
Digital Health is the company's underlying capabilities to support future digital success. Health indicators measure to which degree the intrinsics are in place to enable high digital performance in the future.
Together they make up Digital Success: Digital Success = Digital Performance + Digital Health.
Illustration A. The definition of Digital Success. Source: Oleto Associates
Example 1 - High digital health not reflected in digital performance
One pension company spent the last 3 years ramping up their internal digital capabilities. They cleaned up their data and application architecture, automated policy management processes and developed a business strategy aiming to beat competitors using new digital solutions. However, to this day their digital performance is low. Customers still interact with the company using dated webpages and there is little use of customer data in pension needs discussions. Furthermore, the company has kept both its manual and automated policy management processes, limiting the impact of the efforts.    
Example 2 - Digital performance on unhealthy foundation
A telecom company wanted to increase consumer retention and launch new B2C product bundles. They were successful in rapidly modernising their online self services, adding the possibility to, e.g., order mobile subscriptions and manage broadband subscriptions. They did this with a costly workaround moving relevant data into a temporary place and hiring a digital marketing agency to rapidly build a portal. However, years of neglecting digital health issues, such as low quality of applications and data architecture, technology obsoleteness and losing key IT talent, made new product bundles impossible to launch within one year. Today, the company continues to make architectural workarounds that deteriorate the underlying digital health.
Example 3 - High digital performance and health
A retailer realised that it needed to improve its online sales as sales in stores were declining. The company decided to renew its entire systems foundation and migrate to the cloud at the same time. This created the opportunity to design a healthy setup from day one and reap the performance benefits quickly (increased sales), as customers were changing their channel preferences. Today the company is very focused on retaining its high digital health and established a governance body to ensure data and systems are high quality, in use and do not overlap.
How to Measure Digital Success
Digital success can be tracked by measuring Digital Performance and Digital Health using the indicators in Illustration B. This model has been developed by Oleto Associates through a series of digital transformations engagements.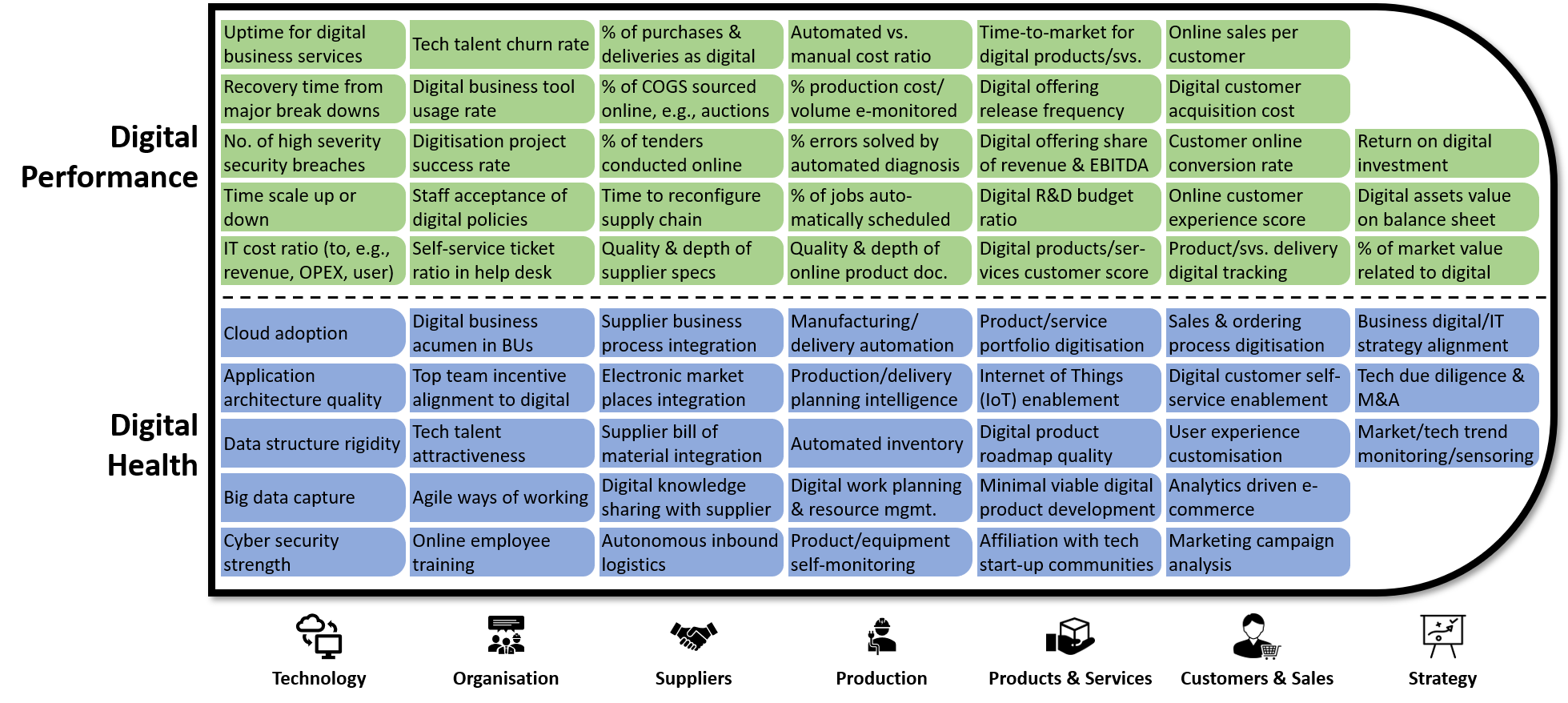 Illustration B: Oleto Associates' digital success model. Is supported by detailed metrics, available upon request. Several industry variants exist.   
We recommend the following approach:
Perform an initial success/maturity assessment performed by the top team members (typically 1 hour per CXO). This should cover both Digital Performance and Digital Health. Several industry variants exist. 
Decide on which areas to perform a detailed assessment for with supporting data.
Identify gaps and evaluate cost, benefits and risks to close them.
Prioritise focus areas.
Execute
Assess again (at least every 3 months)
Digital has become a broad term for executing many kinds of technology backed business initiatives in companies. By using a structured assessment approach it is easier for executives to track the progress and therefore also the value creation, ultimately leading to more digital success.
About the authors: This article was written by a team of consultants from Oleto Associates, a strategy consulting firm based in Denmark. For more information please visit www.oleto.com
February 2021