The multi-room audio industry is crowded and highly competitive. How do manufacturers continue to set their products apart while meeting customers' demand for more open systems?
Consumers are expecting more from their multi-room audio systems
The explosion of better-quality wireless technology, smartphones, and tablets has revolutionised the multi-room audio industry in recent years. The entry of players like Apple and Amazon, access to streaming services like Spotify and Tidal has fuelled advancements in audio technology and consumers have become accustomed to enjoying their music at any time, in any room, and with greater ease than ever before.
One of the key enablers of improvement in the multi-room audio industry has been the technological advances made with Wi-Fi (meshed) and Bluetooth connectivity, which have elevated the audio quality of wireless devices. The adoption of wireless technology has enabled a range of new capabilities and features to be developed and nowadays consumers are expecting systems that are integrated with their personal devices and streaming services, voice/app controlled and more personalised towards the user.
Flexibility and integration have become the key demands for consumers and the increasing reliability and quality of wireless technology has enabled manufacturers to build products that reflect these demands. 'Invisible speakers', which can be installed in the walls and ceilings, hidden behind artwork, or even concealed within other objects, such as an LED smart bulb, are just one example of the industry's reaction to consumer demands for multi-room audio-systems that can be heard but not seen, and controlled via an app or a simple voice command from anywhere in the house.
Many customers have been married to one platform, but are now requesting greater openness and compatibility across brands.
With the lines blurring between multi-room audio systems and new smart home technologies that are integrating quality audio with more flexible use of household appliances via personal devices, it is little surprise that numerous companies are fighting for a lucrative position in the heart of people's homes.
Intensifying competition in multi-room audio industry
Although the technological advancements in the multi-room audio industry have created enormous opportunities for developing new products, it has also led to a plethora of different options on the market from multiple manufacturers. Exhibit 1 shows the numerous multi-room audio manufacturers currently competing for market share.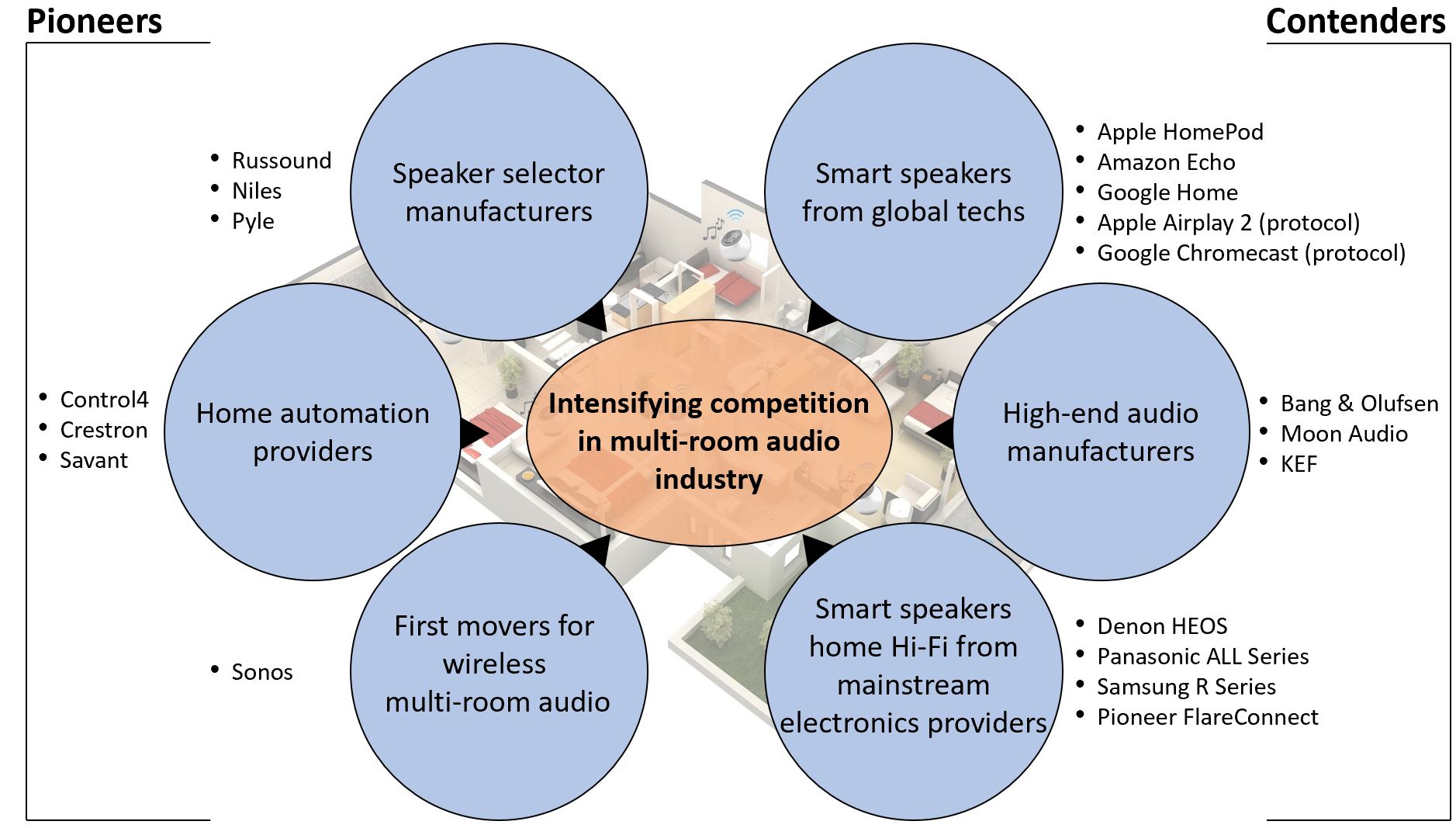 Exhibit 1: The multitude of suppliers competing in the audio market multi-room; All supplier names are examples; Source: Oleto Associates
Multi-room audio systems can include many different types of speakers/devices, whether that be wireless speakers, a soundbar or soundbase, or even some other AV equipment. All of these systems have their own unique platforms that result in different experiences for the user. Nowadays, most multi-room audio systems rely on Wi-Fi or Bluetooth, with Sonos one of the earliest movers in the wireless multi-room audio space, previsiously own by analogue solutions or full scale home integration solutions. However, other traditionally dominant Hi-Fi companies gradually caught up, and now companies such as Bang & Olufsen, Pioneer (Flareconnect), Denon (Heos), Bose, Sony, Yamaha and Panasonic have their own multi-room audio offerings which have built upon their existing sound systems, such as home theatre setup. Some of the high-end players leveraged their experience from cabled analog multi-room systems. 
It is little surprise that the market has become so crowded as global wireless speaker revenues are forecast to hit £21 billion by 2023, an impressive growth rate of 17% CAGR between 2018-2023. And this market is only a part of the total market for multi-room audio solutions.
The entry into the market of tech giants such as Google, Amazon and Apple has further expanded the options available to consumers. They have been responsible for pioneering much of the integration of speakers with personal devices, as well as the creation of "software protocols", such as Apple AirPlay2 and Google Chromecast built-in, which enable users to pick and choose whichever (compatible) speakers they wish to listen to in isolation or combination. This could play a huge role in creating an industry standard open protocol which would enable consumers to interchangeably use any speaker system around the house, regardless of the audio manufacturer.
Smart home technology companies are also growing players in the market, and companies such as Control4 and Crestron are continually working on ways to integrate audio systems into the home and combine them with other home relevant features and capabilities.
With the abundance of technologically advanced multi-room audio systems hitting the market, as well as the existing presence of more traditional speaker systems, competition has never been fiercer.
Suppliers are facing difficult design dilemmas for their next generation products
With the market saturated and many different options available to consumers, audio manufacturers are facing an increasing list of design dilemmas when it comes to creating new generation products (see exhibit 2 below):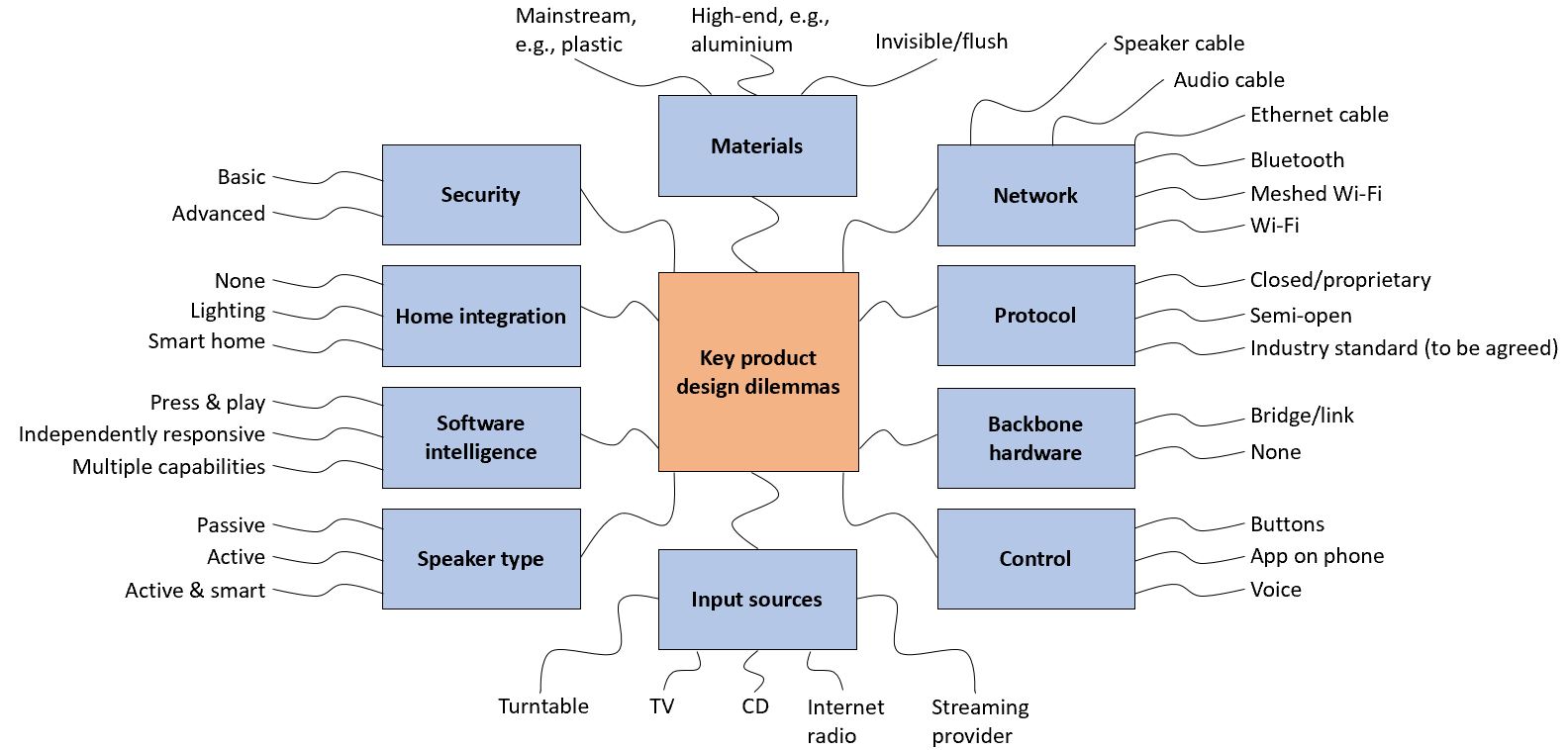 Exhibit 2: Key product design dilemmas – multi room audio; Source: Oleto Associates
Materials to use:

Do audio manufacturers focus on high quality materials for the luxury market, cheaper mainstream materials for the mass market, or on 'invisible speakers' and hidden audio systems where material choice is less important?

Choice of speaker type:

Will the speaker be connected to an external amplifier via a wire, have its own amplifier built in, or utilise wireless technology that uses several types of connectivity to provide features that enhance ease of use?

Network to interconnect speakers/devices:

Do audio manufacturers opt for wired systems that can reduce speaker interference and are unaffected by Bluetooth/internet outages, or explore the potential wireless technology with all the additional flexibility and possible features? This includes continuing to use the meshed Wi-Fi solution many apply today.

Openness of protocol:

Does the system operate with a closed/proprietary protocol that restricts the access of other manufacturers products, or does it adopt a semi-open or open protocol to enable multiple devices across brands to connect and interact with one another?

Design of backbone hardware:

Will the audio system have a central control point (bridge/link) that is used to access all of the speakers around the house, or is it decentralised and controllable from any speaker?

Approach for controlling speakers:

Should the system be controlled by physical buttons that can be simpler to use and more reliable, or be controllable via a person's personal devices/the sound of their voice, offering greater flexibility and integration in the home?

Sources of audio input:

What sources of sound should the audio system be able to play? Should it be compatible with physical mediums of sound (e.g., CD's, Vinyl records), virtual sources (e.g., streaming providers, internet websites), or both?

Software intelligence:

Are audio devices simply press and play, or do they feature highly sophisticated software, e.g., speakers that than can follow a person around the room and search for playlists?

Degree of home integration:

Does the audio system operate in isolation and independently of other devices in the house, or does it incorporate smart home technology which can link it to other devices that are controllable via apps, smartphones or other networked devices?

Level of security to implement:

Does the system require low levels of cyber security as it uses no/little smart technology and is relatively isolated from other devices in the home, or is the security required more sophisticated due to its interconnectedness with other personal devices?
Will the multi-room audio industry evolve towards one standard?
Increased integration into the home and utilisation of wireless technology looks to be the way forward for many multi-room audio systems of the future. Systems will be greater integrated with personal devices and feature little to no visible hardware around the home. The explosion in popularity of streaming services will make compatibility with multiple products a key issue and it is only a matter of time before the industry adopts open protocol to enable consumers to connect multiple devices around the home without audio manufacturer restrictions. Systems will be far easier to control, with active and smart speaker technology facilitating app and voice control, and smart home technology will slowly transform audio into just one component of the centralised system people will use to operate their homes.
The future of the multi-room audio system is dynamic and evolving. It is more important than ever that audio manufacturers make the right design decisions for their future multi-room solutions.
About the authors: This article was written by a team of consultants from Oleto Associates, a strategy consulting firm based in Denmark. For more information please visit www.oleto.com.
April 2020